Katy Wareham Morris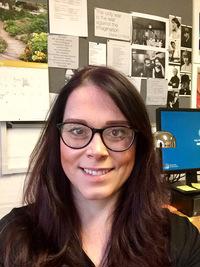 Lecturer in media and culture; Admissions Tutor
Before becoming a University lecturer, Katy worked in the field of advertising and marketing, specialising in social media marketing. Katy applies this practical and professional expertise within the classroom and utilises her list of expert contacts to help students develop their own professional networks. She has links across creative and digital industries and has organised employability showcases and expert guest speakers for students. Katy facilitates the Work Project modules and second year, Social Media module, which involves a practical project. Katy is particularly interested in digital new media technologies.
As Admissions Tutor, Katy is responsible for organising course taster sessions and outreach events, as well as responding to applications and course enquiries.
Katy is also a keen poet and regularly organises poetry and spoken word events for students and the public. She is a recognised poet herself, being shortlisted for a Saboteur Award 2018. Her most recent collection is published by Hesterglock and is entitled, Cutting the Green Ribbon. Katy is also competing PhD research in literary gaming, play and post-queer politics, which has both critical and creative elements.